Physical Education
Our Vision for Physical Education
Along with, the Association for Physical Education, at St Leonard's we believe in the value of high quality physical education, physical activity and participation in school sport. Each has an enormous impact on health and emotional well-being as well as significantly impacting on whole school improvement. We aim to ensure that:
The health and emotional well-being of all our pupils is improved.

Education is an entitlement and therefore the impact of physical education across the curriculum is valued and recognised.

Leadership by all: headteacher, governors, subject leader and class teachers promote and celebrate the value of physical activity and school sport.

Physical education is 'Powerful Education' as we support and recognise the impact it has on whole school development, making a real difference to the lives of our pupils and preparing them for an ever changing world.
We believe these aims will be fulfilled by implementation of the National Curriculum and specifically the 2020 (updated) Lancashire Scheme for PE.
Physical Education Policy 2019-2020
PE and Sports Premium
The Government provides additional funding for physical education (PE) and sport in schools.
This funding is to be used to improve the quality and breadth of PE and sport provision resulting in increased numbers of pupils developing healthy life styles, raising their performance levels and engaging in PE and sport.
We are very proud of the extensive PE and sporting opportunities we are able to provide our pupils via this extra funding.
The link below details how St Leonard's have allocated this funding and the impact it has had.
Regional Sports Hall Athletics Finals
Well done to the Year 6 athletics team who represented Ribble Valley Schools at the Regional Sports Hall Athletics Finals in Blackpool. Mrs Chambers is an extremely proud coach.
Gold Sport Award
We were delighted to welcome Stacey Roscoe, from the Hyndburn and Ribble Valley School Sports Partnership (HRVSSP) on Thursday 22 November 2018, to present school with a Gold School Games Mark Award.
The award is recognition for St Leonard's commitment to, and development of competition in school sport, physical education and physical activity. It reflects the schools broad, balanced and inclusive sports provision that provides competitive inter-school opportunities and actively encourages those children who are less likely to be engaged in physical activities.
Thank you to Mr Kelly, Mrs Chambers(athletics coach), all staff and parents who help to support sporting activities at St Leonard's.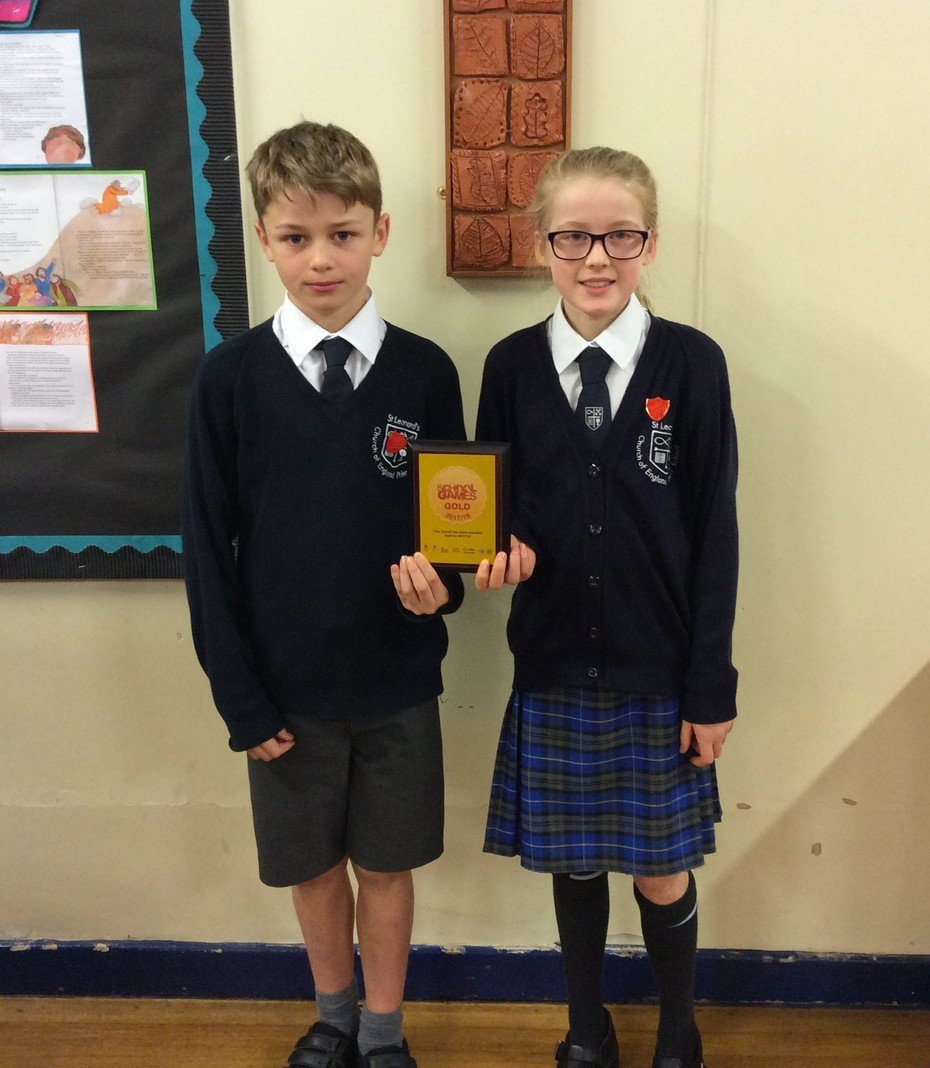 Our Sports Captains with the Gold School Games Mark Award
Athletes Strike Gold!
What a great year our athletes are having! The team returned with their gold medals from winning the Year 5/6 Sports Hall Athletics event at Oakhill College.
Congratulations to our champions.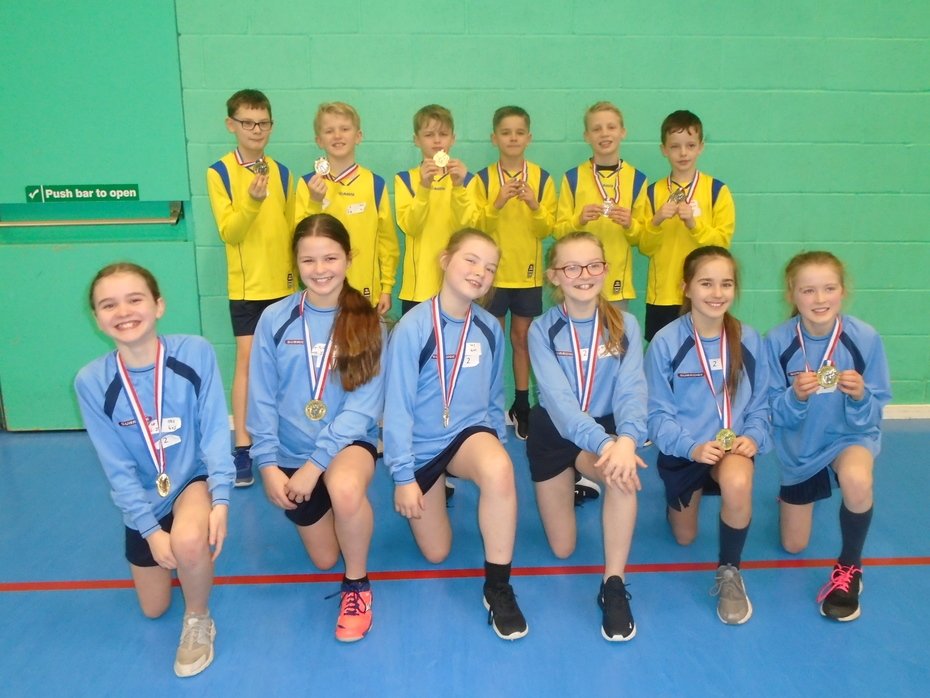 Sporting Success 2019-2020
Sports Hall Athletics Champions...Again!
A team of our Year 5/6 children maintained St Leonard's winning record by running out as champions at the latest (15 January) Sports Hall Athletics event at Oakhill College.
Congratulations to all our athletes and Mrs Chambers, our excellent athletics coach.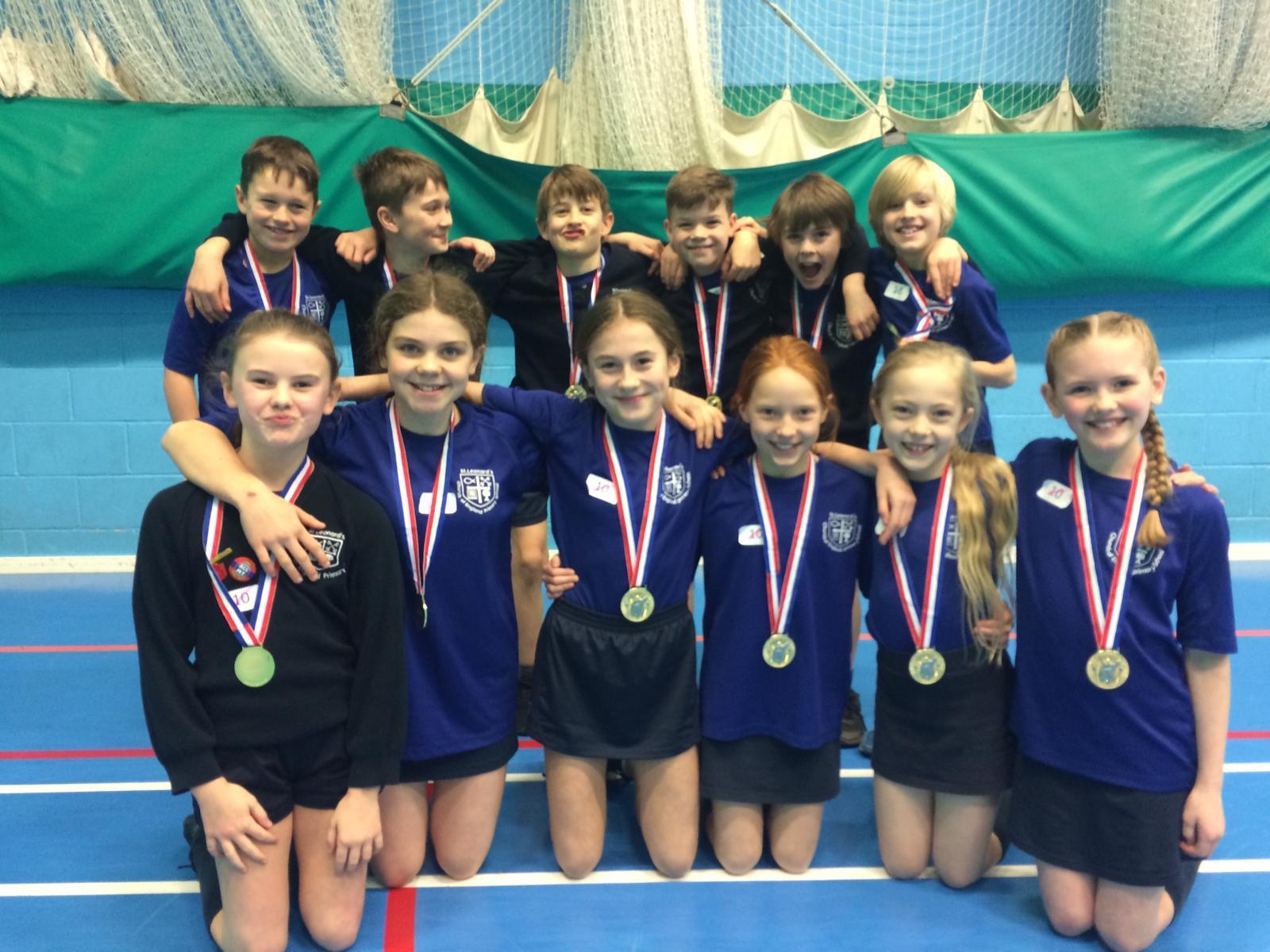 ------------------------------------------------------------------------------------------
Girls Football
Congratulations to our Year 6 girls football team who won silver medals at the football tournament.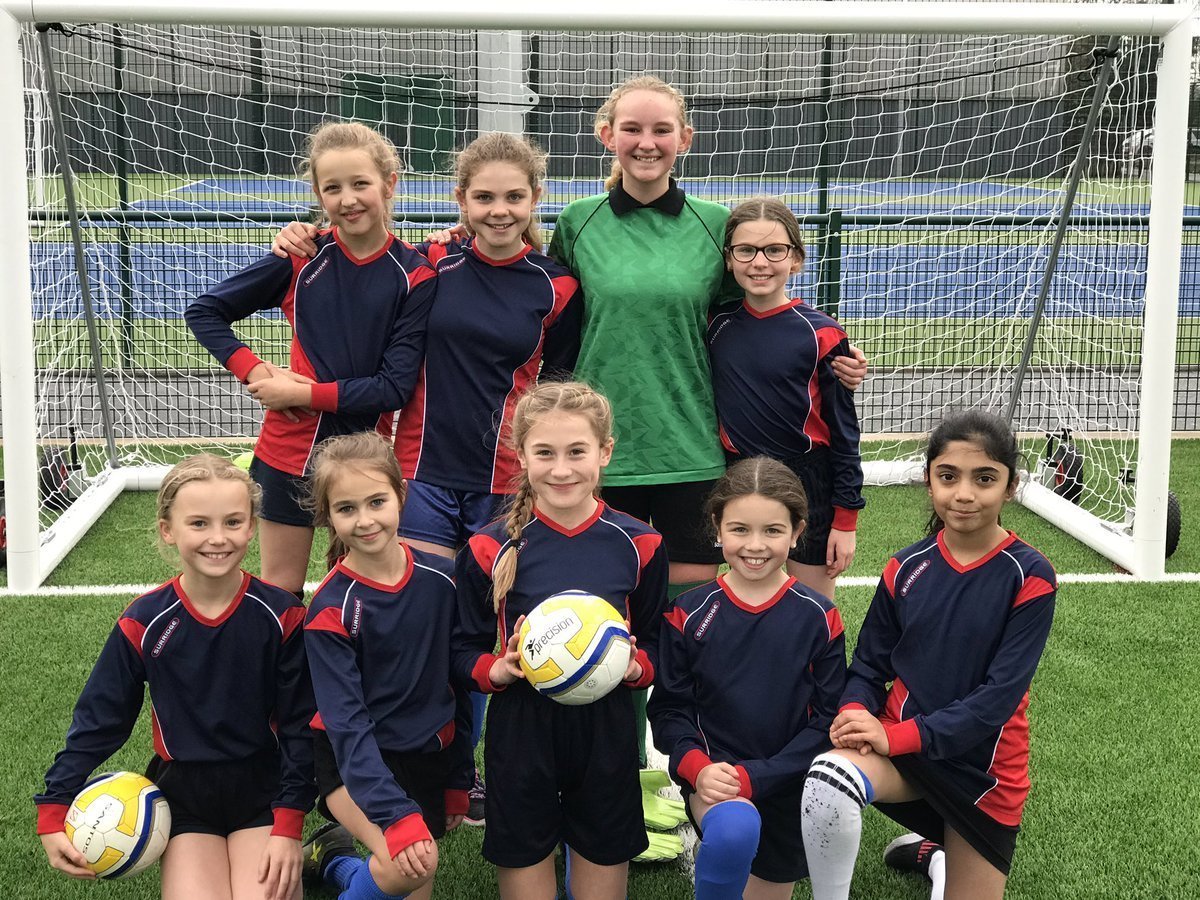 ------------------------------------------------------------------------------------------
Sports Hall Athletics
A team of Year 4 children maintained St Leonard's excellent record of athletics success by finishing champions at a recent Sports Hall Athletics event at Oakhill College.
Well done to our athletic stars.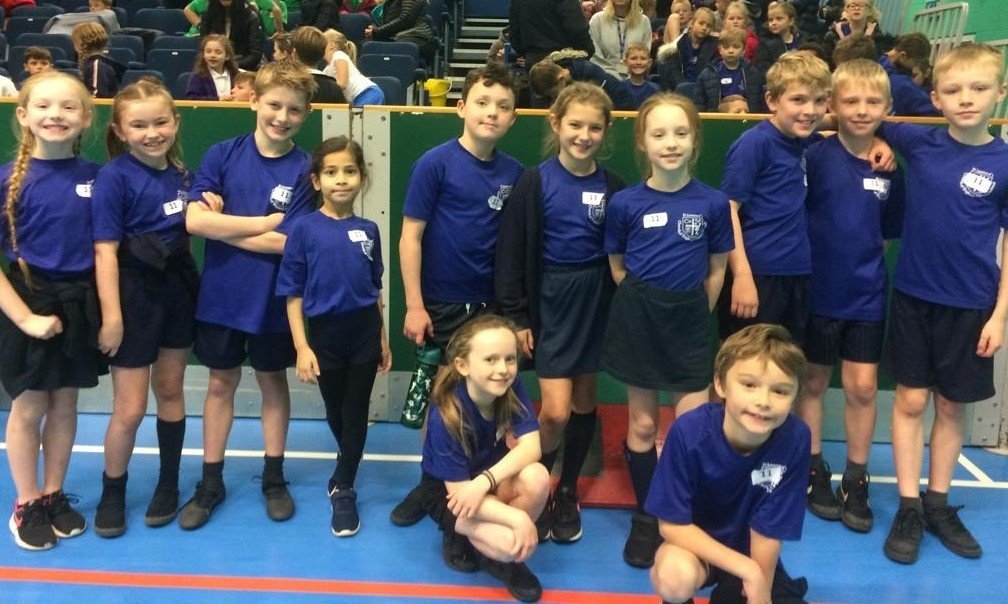 New School Year Brings More Sporting Success
Our athletics and football teams started the 2018-2019 school year in excellent form.
In the same week, our athletes were crowned Hyndburn and Ribble Valley Cross Country Champions at the Wilsons Playing Fields event, whilst our football A team won the Accrington Stanley Kids Cup tournament.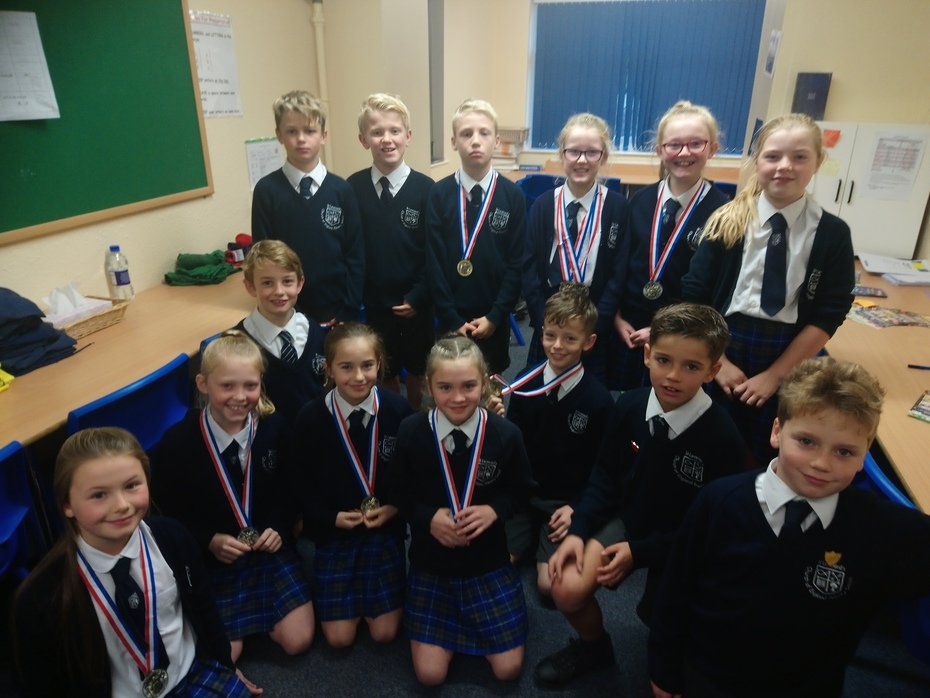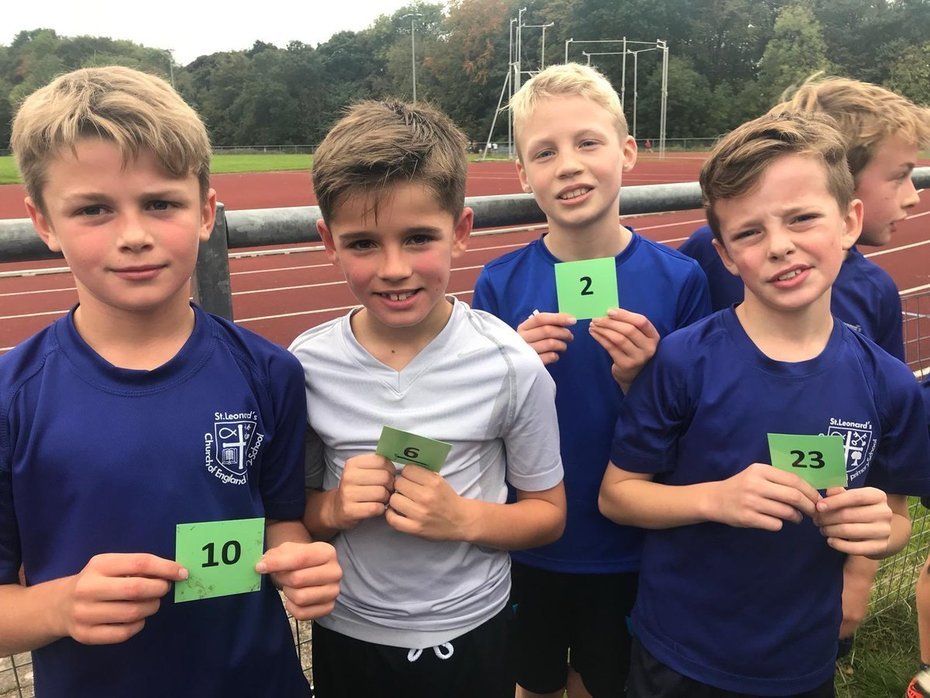 Cross Country Champions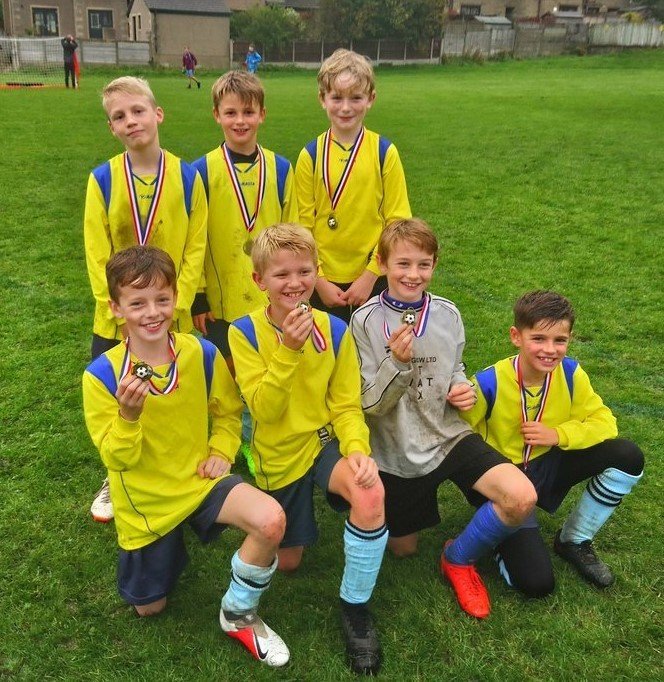 Football Team Winners
Accrington Stanley Kids Cup
What a fabulous start to the sporting year.
We are very proud of all the children who represent St Leonard's at the many sporting events, throughout the year. With their talent and, enthusiasm and the dedication of our sports coaches; Mr Kelly, Mrs Chambers and Mr Bradshaw, we are looking forward to watching our sports stars shine!
Sports Hall Athletics
Congratulations to the team of year 3/4 children who represented St Leonard's at a Sports Hall Athletics competition at Oakhill College in December. They put in a tremendous team effort to win Silver medals for finishing second out of nine teams.
Well done to everyone who competed and thank you to Mrs Chambers for your excellent coaching.