Spelling Passports
Please find attached below our own Spelling Passports. Your child has to work through each passport before moving onto the next one. You might like to use this method to ensure that your child has learnt to spell the words.
Step 1 - Read the words
Step 2 - Copy the words
Step 3 - Try spelling the words
Step 4 - Spell the words in a dictated sentence
Step 5 - Check spelling of words where possible in independent writing
Start from Passport 1 (Mercury) and work through to Passport 11 (Milky Way 2).
Passport 1 starts from Reception age to Passport 10 and 11 with extremely tricky spellings!
| Name | |
| --- | --- |
| Spelling Passport 1 Mercury.pdf | Download |
| Spelling Passport 10 Milky Way 1.pdf | Download |
| Spelling Passport 11 Milky Way 2.pdf | Download |
| Spelling Passport 2 Venus.pdf | Download |
| Spelling Passport 3 Earth.pdf | Download |
| Spelling Passport 4 Mars.pdf | Download |
| Spelling Passport 5 Jupiter.pdf | Download |
| Spelling Passport 6 Saturn.pdf | Download |
| Spelling Passport 7 Uranus.pdf | Download |
| Spelling Passport 8 Neptune.pdf | Download |
Home Learning for English
Here is a list of home learning ideas and links to websites that are useful to help your child whilst school is closed.
Pobble 365
This website has a new picture each day - you can finish a short story, create super sentences and answer comprehension / inference questions as well as a drawing challenge.
Vocabulary Ninja
'Words unlock the doors to a world of understanding'
Improve your vocabulary - a new word every day...
https://vocabularyninja.wordpress.com/
BBC Teach - English
A link to many websites that help with writing.
https://www.bbc.co.uk/teach/ks1-english/z67ncqt
Oxford Owl
Lots of information to help broken down into year groups
https://home.oxfordowl.co.uk/english/
https://home.oxfordowl.co.uk/reading/
This link takes you to lots of year related activities and a login for ebooks (all reception, year 1 and 2 have this login)
World Book Day
5th March 2020
We celebrated World Book day wearing our pyjamas, we had our soft toys to cuddle and our favourite books to read and share.
Our annual World Book Day competition was to design a 'bookmark for our class reading book' - lots of children entered and it was lovely to see the imaginative and creative designs. Throughout the day we 'shared stories' and did lots of fun book related activities within our own classes and with other classes.
As a school we are taking part in the World Book Day Reading Revolution over 4 weeks in March 2020.
Have a look at the pictures below...
Poetry Recital November 2019
This year our Poetry Recital was based on the 'LOST WORDS' by Robert McFarlane and illustrated by Jackie Morris. The children read poetry from the Lost Words and were inspired to write, illustrate, learn and recite their own poem based on the same theme. We were extremely proud of all children who performed in both our KS1 and KS2 performances. Even our youngest children in Reception performed group nursery rhymes they had learn off by heart. Have a look at their amazing work below...
KS1 Winnie the Pooh Week
18th - 25th March 2019
We had a focus on AA Milne and Winnie the Pooh to enhance our learning. Children wrote animal adventure stories, wrote character descriptions and even riddles. There was a lot of learning going on and our parents came in to celebrate with us after school on Friday. Have a look at the photos below.
World Book Day
7th March 2019
We celebrated World Book day dressing up as fairy tale and nursery rhyme characters. Our annual World Book Day competition was to design a 'book in a jar' - lots of children entered and it was lovely to see the imaginative and creative designs. Thank you to Rev. Tracy for being our judge. All children spent the morning doing book related activities in all the classrooms around school. In the afternoon lots of children shared stories and some even had hot chocolate! Below are a selection of photos from the day.
Dan Worsley - January 2019
As part of our Creative writing we invited Dan Worsley to come to work with all our KS2 children on writing with humour and dialogue to move a story on as well as characterisation and showing not telling about a character through our writing. Children have produced some excellent pieces of writing which will be entered into the BBC Radio 2 500 words competition.
Poetry Recital November 2018
This year for our annual poetry recital we were lucky to have Paul Cookson working with our children for two days prior to our evening recitals. As these have become so popular we split it into two performances - one for juniors and one for infants. The children from Reception through to year 6 were extremely brave to recital their own poems off by heart in front of packed halls and Paul entertained the children and parents with some of his own poetry. The list of the performances can be found here for juniors and here for infants. See below for some photos.
Book Week
Week Beginning 26th February 2018
Another amazing creative reading and writing week in school.
On Monday we welcomed Dan Worsley (an author from Blackpool) He had the school captivated with his storytelling in his amazing waistcoat! He described his journey as an author and how many times he edits and improves his own writing. Then he entertained all KS1 classes with his storytelling tales...
On Tuesday, strange things were happening around school... lily pads and frogs appeared everywhere! In most year groups children were introduced to the picture book 'Tuesday' by David Weisner. It certainly made the children excited to write their own retelling stories, follow on stories, detective reports even poetry! We are even going to publish our own book with the Scholastic We are Writers project.
On Wednesday some lucky children from our book club went to see Julian Clary at Westholme school.
On World Book Day - Thursday - unfortunately brought a snow day to school but our poet Paul Jenkins revisited school the following Tuesday to write poetry with our lucky KS2 children.
On Friday, the whole school was invaded with vegetable book characters and children in pyjamas sharing stories and drinking hot chocolate! Doors were decorated beautifully as each classes favourite book! Our very successful 'share-a-story' took place on Friday afternoon - over 30 parents and their children, reading, sharing stories and activities in our ICT suite. What an amazing afternoon!
Book Week
Week Beginning 27th February 2017
What an amazing week we had in school.
On Monday we welcomed Spellbinder the Storyteller. He performed for both Juniors and Infants to start the fabulous week.
The week continued with an extraordinary Spelling Bee with words from the Roald Dahl dictionary...
Children also had a Big Quiz of books in each class.
Throughout the week children were busy designing their book characters and decorating their doors for our annual book door competition.
Throughout the week children had to search to find 'Where's Wally?' He hid himself in some of the strangest places around school!
On Wednesday, we had a Parent's Reading workshop, it was well attended with lots of reading and bookmaking activities going on... and don't forget the Hot Chocolate, squirty cream and marshmallows!
Our Fantastic Book Awards team were lucky to get a chance to visit Westholme School on Thursday to see author Derek Landy who wrote the Skulduggery Pleasant series. What fun they had with lots and lots of laughter!
World Book Day arrived on Thursday 2nd March...
Children came dressed as their favourite book characters. There were some fabulous outfits. We celebrated with a Whole School Worship and learnt about the best selling book of all time - The Bible!
Lots of children bought in books for a book swap and for a £1.00 donation gained a new book! we raised £325 for Book Aid International. Thank you very much!
During the week children were challenged to 'Read somewhere different!' Some children took up the challenge and read in unusual places!
To celebrate the end of Book week children changed into their pyjamas on Friday afternoon for an afternoon of stories, hot chocolate and marshmallows. The week ended with a PTA pyjama film night after school with hot dogs and pizza! a great end to a fabulous week!
Some amazing creative writing from our year 4 and 5 children...
Poetry Week
Week Beginning October 3rd 2016
We welcomed Andy Tooze - the Poet from the Peaks - into school on Tuesday 4th October 2016.
He worked in each class and even wrote a poem especially for our Harvest Festival.
Our Poetry Recital
Thursday 6th October 2016
Click below for our Poetry Recital Programme. It includes poems written by our children and a specially commissioned poem by Andy Tooze.
Poetry Recital Videos
Take a look at the videos from our Poetry Recital Evening.
The Parent's Poetry Week letter can be found here.
Year 4
Visit to see Claire Balding at Westholme Senior School
Monday 26th September 2016
Thirteen lucky Year 4 children went on the minibus to see Claire Balding talking about her new book - The Racehorse Who Wouldn't Gallop.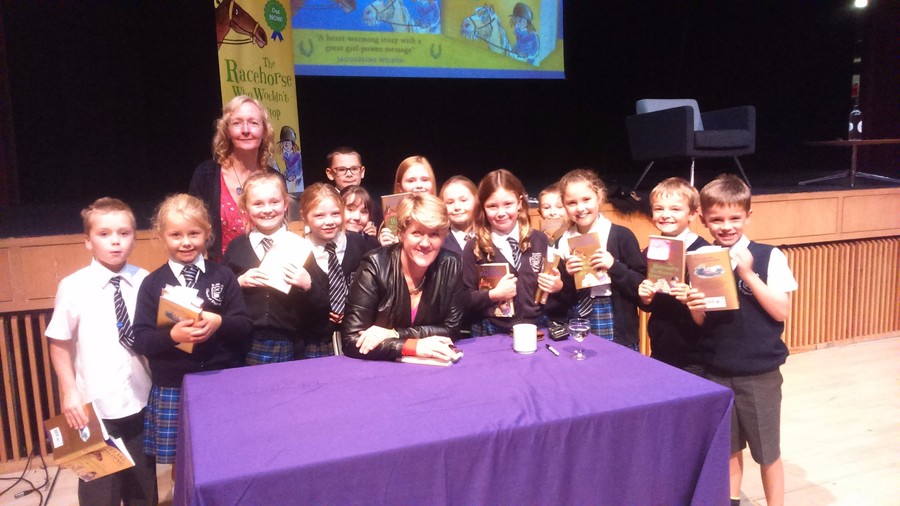 Roald Dahl Day
Tuesday 13th September 2016
We had very good fun celebrating Roald Dahl's 100th Birthday. We did lots of lovely activities based on his books in our classes and had a Dahlicious Dress Up Day!
Radio 2 Chris Evans 500 Words
STOP PRESS!
We have three children who have got into round 2 of the National Competition.
Congratulations go to:
Honey
Archie
Hollie
Read their stories below...
Children from year 1 to year 6 all had a go at writing 500 word story. We had a school competition judged by our English Governor, Mrs Harrison and we all entered the national competition.
Our school winners were:
Elm
What fantastic stories you wrote. They were very hard to judge.
The Hidden Temple by Archie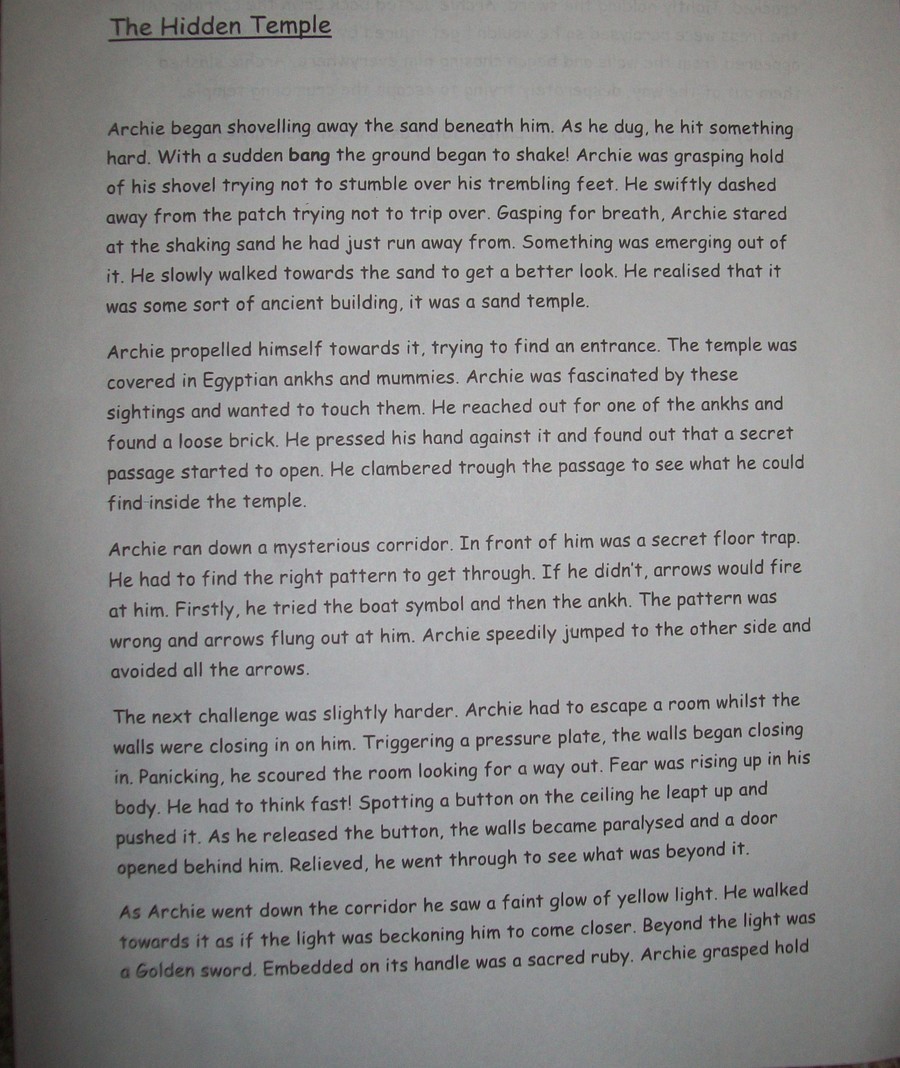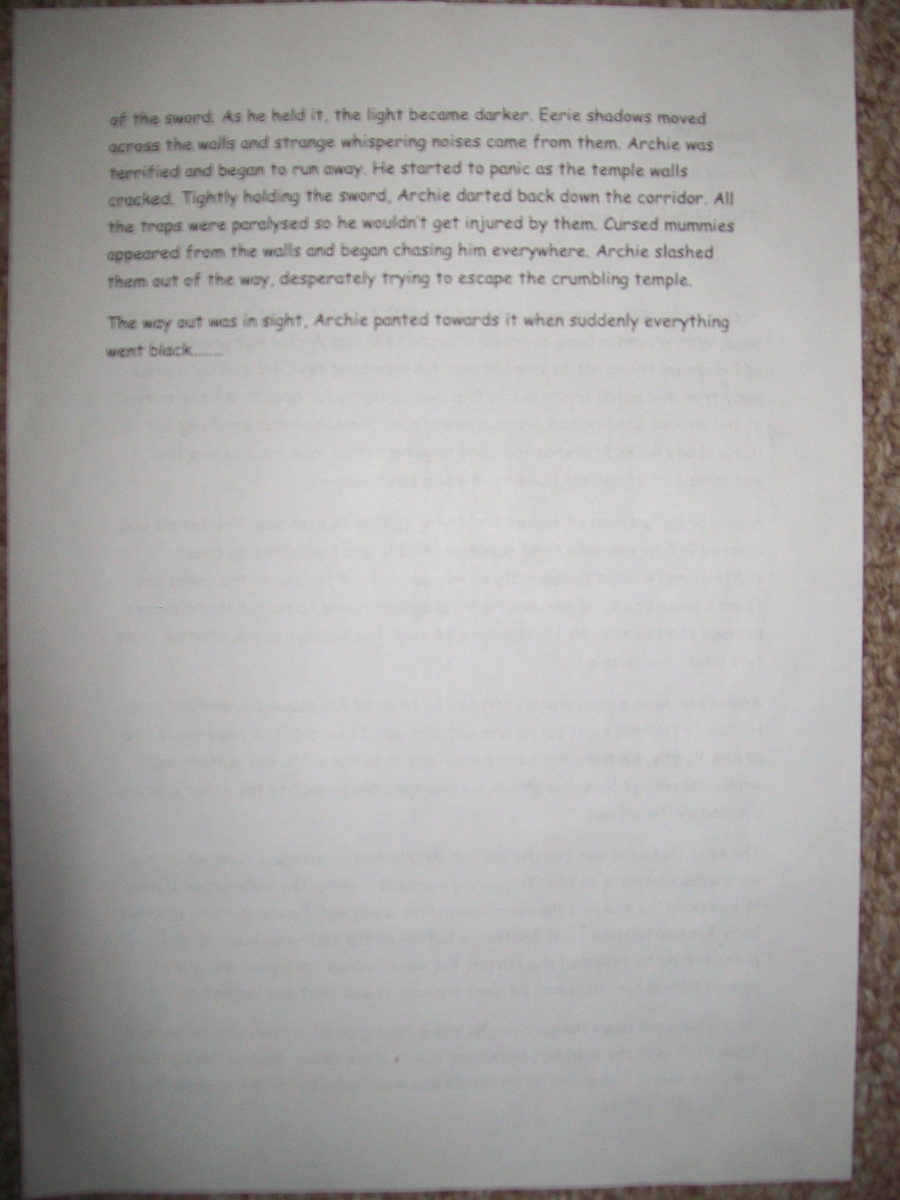 The Night Visitor by Hollie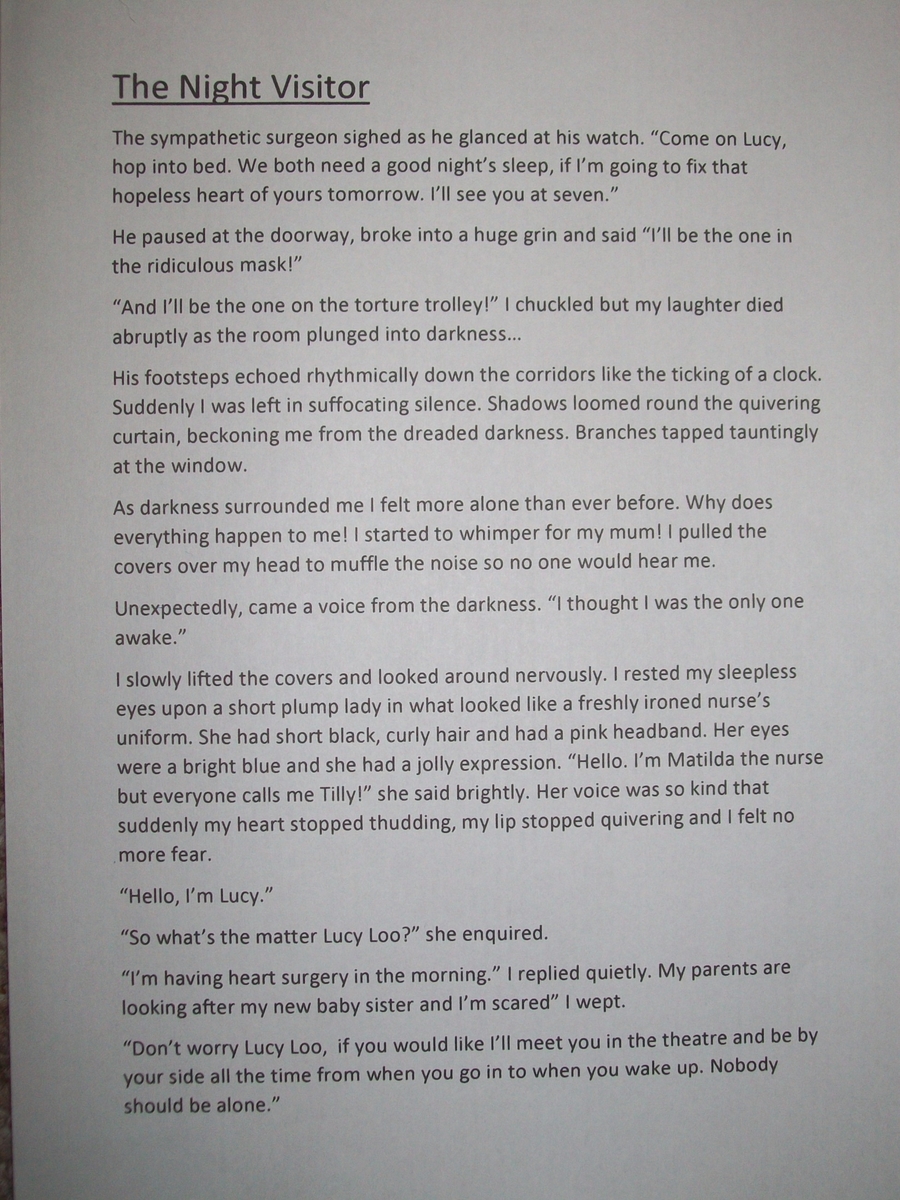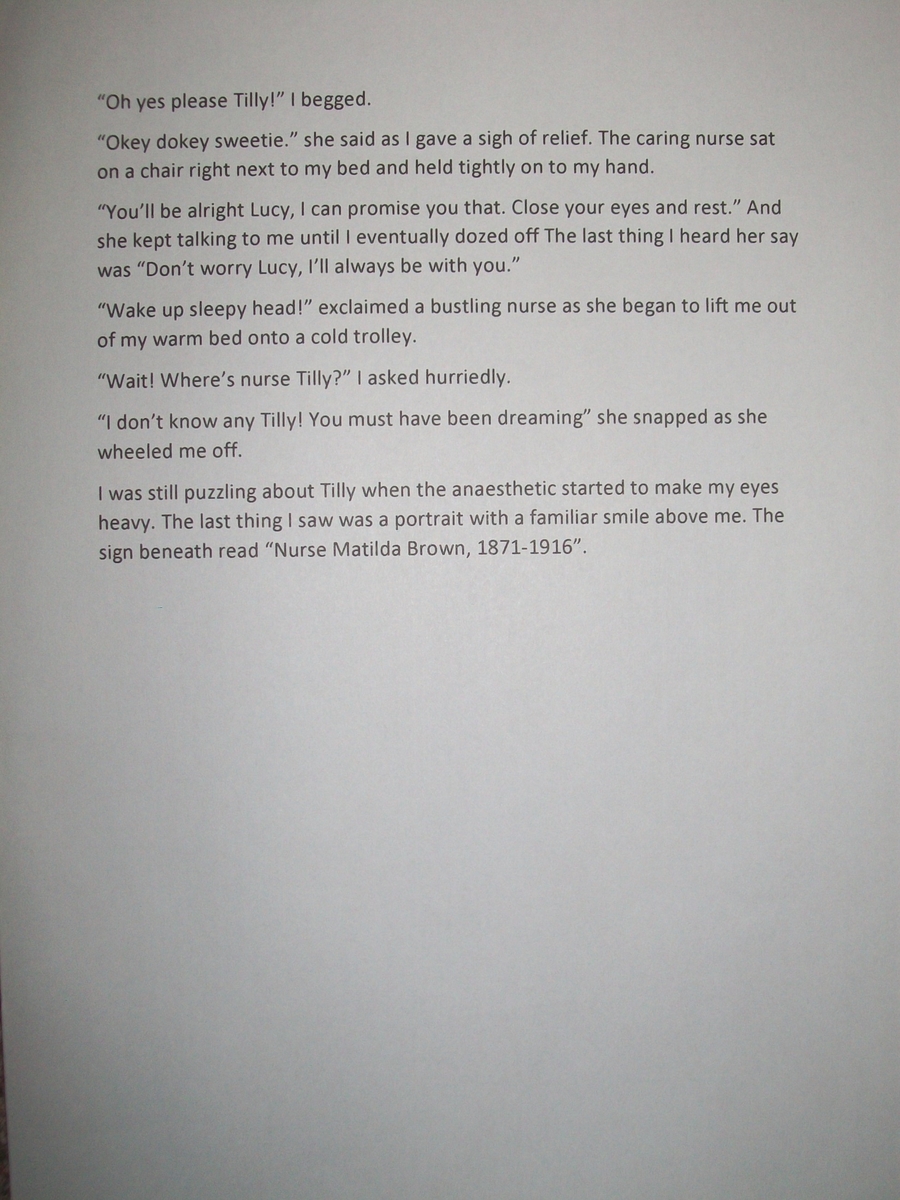 World Book Day
Thursday 3rd March 2016
We celebrated World Book day by wearing different book character costumes.
Storytelling Week
1st February 2016 - 5th February 2016
All classes learnt an Oral Story and we showcased them in Church on Friday.
We had fun decorating our class doors and even made storytelling chairs.
We had governors and members of the church congregation in to share stories with some classes.
We were lucky to have a pyjama day on Friday and even luckier to have Hot Chocolate and marshmallows.
Reception Class
Three Billy Goats Gruff
Year 1
Monkey See Monkey Do
Class Door Competition - Who are the winners?
Storytelling Week Activities
Poetry Week
9th November 2015 - 13th November 2015
We were lucky to invite a local poet - Mary Lou into school for two days. She started our week with a whole school assembly, reading some of her poems. We particularly liked 'Socks'.
Mary Lou worked with small groups of children across key stage 2 writing poems based on 'Light'.
On Monday evening we had some budding poets in school who performed brilliantly in front of a packed school hall.
On Friday afternoon, every class shared whole class poems. Once again these were performed brilliantly.
Some of our budding poets and their poems are shown below:
See if you can spot your poem...
English Vision and Intent
Curriculum Overview
Curriculum Overview for English 2020-21
English Reading
Key Learning
Years 1-6
English Writing
Key Learning
Years 1-6
Reading Progression EYFS and Years 1-6
Our Whole School Reading Progression - Updated November 2019
Writing Progression EYFS and Years 1-6
Our Whole School Writing Progression - Updated November 2019
KS1 100 books to read
During KS1 children should have a go at reading all the books on this list.
Please click here for the attached file....
100 books to read before you leave year 6
During KS2 children should have a go at reading all the books on this list.
Please click here for the attached file...
Reading Band Book Marks for Infants
These are to help parents ask appropriate questions when listening to your child read. Please click here
25 Ways to Improve Your Sentences...
by Alan Peat
See below...
Scholastic Book Fair
We raised over £1000 for books for our library and classes.