Our School Councillors for 2019-2020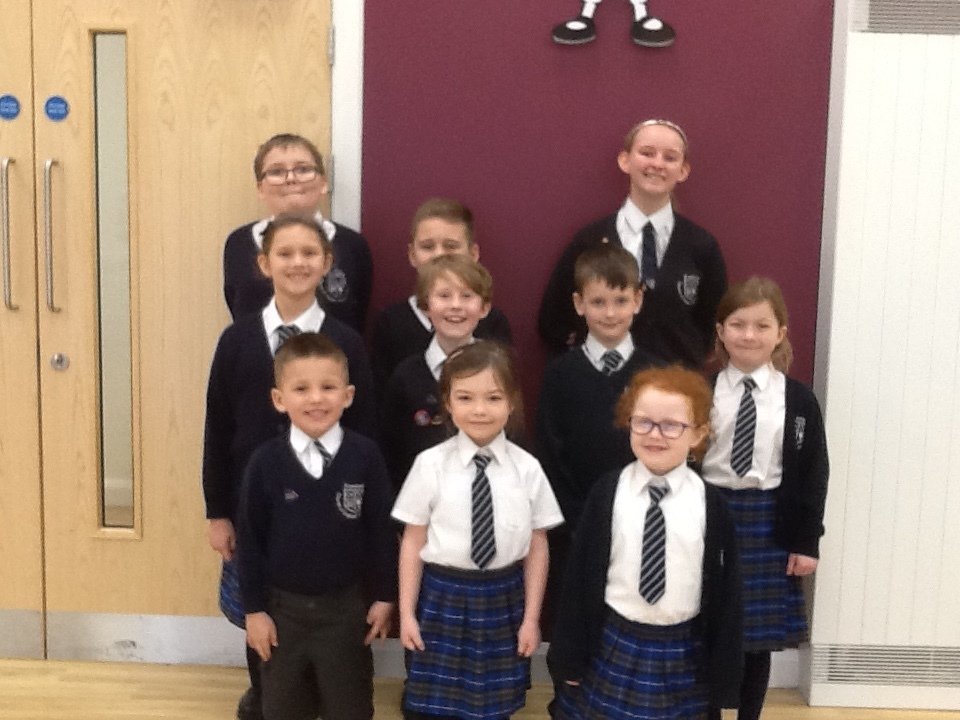 Congratulations to this year's newly elected School Councillors:
John, Cara, Jack, Lucas, Layla, Isla, Rueben, April, Hattie, Reggie and Tilly
Our School Council is a democratically, peer elected group of pupils representing each of our classes. The purpose of the School Council is to provide a voice for all of our pupils at St Leonard's. Enabling them to have an active role in matters that effect their lives both in school and the wider community.
School Council meetings are held weekly on a Monday with Mrs Pym and Mrs Thornber.
Suggestion boxes are located in each classroom. Children are encouraged to write down any suggestions that they think will improve school. The School Council take these ideas to council meetings to discuss if they can be implemented.
Up to date, the following suggestions have been implemented this year:
New rota for the school MUGA

Outdoor school clock purchased and erected outside of the new build

Book sale which took place in Spring Term
Fundraising
Each year our School Council organise fundraising events to raise money for a variety of worthy causes.
2019-2020
Cake Sale
Our first fund raising event of the year was a cake sale in the Autumn term. This raised £197.40 which was split between Prevent Breast Cancer (£100) and the rest retained to purchase items for school.
Christmas Selection Box Raffle
The Christmas raffle raised £96.90 which was sent to Rwanda to help Nadia, who we sponsor to help her to receive an education.
Book Sale
The total raised from the Book Sale was £152.23 was also sent to support Nadia In Rwanda.
__________________________________________________________
2018-2019
Cake Sale
The cake sale raised £210 with the money being split between paying for author Dan Worsley to come and run story writing workshops for the children. While the other half was sent to Motor Neurone Disease Association.
Christmas Selection Box Raffle
£150 was raised to put towards a new school Team Points display board.
Superhero Day
Children dressed up as their favourite superhero and raised £222 for Water Aid.
A representative from Water Aid spoke to our KS2 children to tell them more about the vital work they do and to explain how the money we raised will help.
_____________________________________________________________________
2017-2018
Summer Term
Coffee Morning For Dementia UK
The coffee morning, held in memory of Mr Derek Ashburner, raised £320 for Dementia UK.
We were delighted that Derek's family were able to join us to see the bench, bought in his memory, blessed by Reverend Tracy.
Spring Term
Easter Egg Raffle
The Easter egg raffle tickets, sold in classes by our school council representatives, raised a total of £119.95.
We have decided to put the money towards a commemorative bench for our friendship area in memory of Mr Derek Ashburner.
Derek, who sadly passed away in March, was our 'Lollipop Man' for many years before his retirement. He was a dear friend and active member of our school family. As well as ensuring our children stayed safe, getting to and from school, he helped out with many school visits including the Year 6 residential trips to Borwick Hall. He also loved sharing his design and technology skills with children in their practical lessons.
Fundraising for Ronald McDonald House
A fundraising toy sale held in January for Ronald McDonald House at Alder Hey Children's Hospital, raised £250.
Thank you to St Leonard's parent, Mrs Barclay, for her presentation to school about their family's personal experience of staying at Ronald McDonald House, while Leah was a patient at Alder Hey Children's Hospital.
Autumn Term
A St Leonard's Bake Off and Cake Sale delivered many fabulous and delicious cake creations.
The Bake Off winners were:
KS1 KS2
1st Freya 1st Honey, Milly and
2nd Jenni Olivia (joint entry)
3rd George 2nd Sarah
3rd Maximus
This was a very successful event, raising £336 for Cancer Research UK.
School Council members presented Mrs Kenyon, from the Clitheroe Cancer Research shop, with a cheque during worship.


Selection Box Raffle
The Christmas raffle for a selection box raised £90.
After consultation, it was decided to share the money between the nine school classes for them to spend on wet play items.
_____________________________________________________________
Fundraising 2016-2017
Guide Dogs
The School Council chose Guide Dogs following a talk in
school from representatives of the charity. We organised a toy sale and raised £200. The money we raised will help train and provide guide dogs for the blind.
The Bethany Project
School Council wanted to raise money to help The Bethany Project following The Bethany Choir's visit to school.
We are delighted to announce that we raised £414, from our Christmas Raffle and Christmas Jumper Day, which has been sent to The Bethany Project.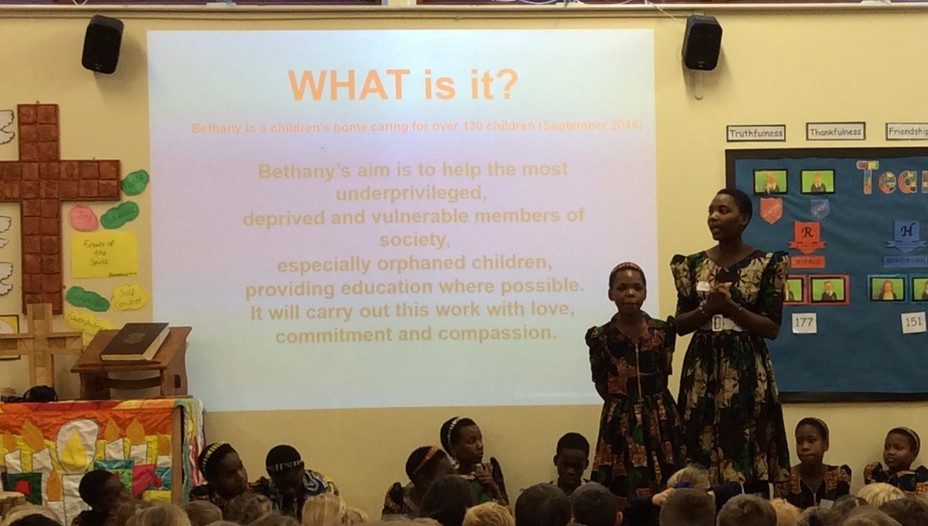 Go to our Religious Education page for more information about the Bethany Project charity and their visit to school.
RSPCA
The School Council organised a Halloween Raffle which raised £67.05 for the RSPCA.