Mathematics Policy and Statement of Intent
CULTURAL CAPITAL
Where did the term cultural capital come from?
The original phrase comes from by the French sociologist Pierre Bourdieu in the 1970s, believing the more 'capital' you had, the more powerful your position was within society.
What is cultural capital and why is it important to us?
Cultural capital can be described as the knowledge and skills that can help to improve children's life chances. It's the essential knowledge that children need to prepare them for their future success.
"We have said that cultural capital is the essential knowledge that children need to be educated citizens." Ofsted
Cultural capital is important to us as it prepares children with the essential knowledge and skills that come next. By providing the children with new skills, we nurture resilience, curiosity and creativity. Through this journey the children develop new forms of cultural capital that makes a difference in individual mind-sets, which consequently shapes their future.
Recent curriculum experiences and opportunities
My Money Week 8th - 12th June 2020
Maximum Product Maths Challenge
MATHS CHALLENGE
MAXIMUM PRODUCT
Have a go at this maths challenge for which you will need to demonstrate resilience. Tackle this investigation independently or work on it with a member of your family.
NB: Please ensure you have the sound ON for the video.
Well done to Luke for showing resilience and perseverance when tackling the Maximum Product maths challenge.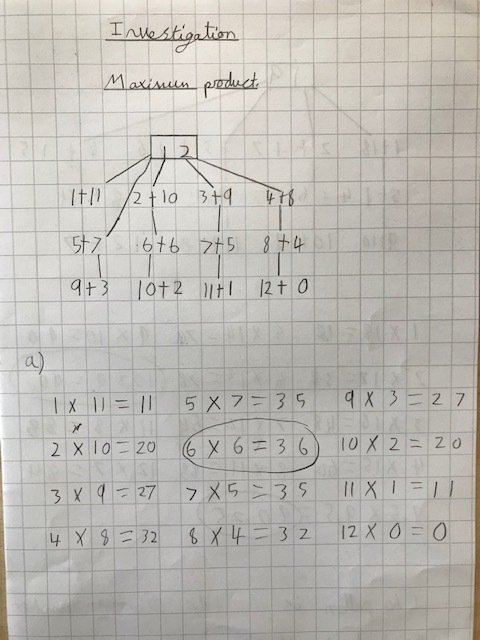 Overview of the Programmes of Study for Mathematics (National Curriculum 2014)
Years 1 and 2
The principal focus of mathematics teaching in key stage 1 is to ensure that pupils develop confidence and mental fluency with whole numbers, counting and place value. This should involve working with numerals, words and the 4 operations, including with practical resources [for example, concrete objects and measuring tools].
At this stage, pupils should develop their ability to recognise, describe, draw, compare and sort different shapes and use the related vocabulary. Teaching should also involve using a range of measures to describe and compare different quantities such as length, mass, capacity/volume, time and money.
By the end of year 2, pupils should know the number bonds to 20 and be precise in using and understanding place value. An emphasis on practice at this early stage will aid fluency.
Pupils should read and spell mathematical vocabulary, at a level consistent with their increasing word reading and spelling knowledge at key stage 1.
Years 3 and 4
The principal focus of mathematics teaching in lower key stage 2 is to ensure that pupils become increasingly fluent with whole numbers and the 4 operations, including number facts and the concept of place value. This should ensure that pupils develop efficient written and mental methods and perform calculations accurately with increasingly large whole numbers.
At this stage, pupils should develop their ability to solve a range of problems, including with simple fractions and decimal place value. Teaching should also ensure that pupils draw with increasing accuracy and develop mathematical reasoning so they can analyse shapes and their properties, and confidently describe the relationships between them. It should ensure that they can use measuring instruments with accuracy and make connections between measure and number.
By the end of year 4, pupils should have memorised their multiplication tables up to and including the 12 multiplication table and show precision and fluency in their work.
Pupils should read and spell mathematical vocabulary correctly and confidently, using their growing word-reading knowledge and their knowledge of spelling.
Years 5 and 6
The principal focus of mathematics teaching in upper key stage 2 is to ensure that pupils extend their understanding of the number system and place value to include larger integers. This should develop the connections that pupils make between multiplication and division with fractions, decimals, percentages and ratio.
At this stage, pupils should develop their ability to solve a wider range of problems, including increasingly complex properties of numbers and arithmetic, and problems demanding efficient written and mental methods of calculation. With this foundation in arithmetic, pupils are introduced to the language of algebra as a means for solving a variety of problems. Teaching in geometry and measures should consolidate and extend knowledge developed in number. Teaching should also ensure that pupils classify shapes with increasingly complex geometric properties and that they learn the vocabulary they need to describe them.
By the end of year 6, pupils should be fluent in written methods for all 4 operations, including long multiplication and division, and in working with fractions, decimals and percentages.
Pupils should read, spell and pronounce mathematical vocabulary correctly.
HOME LEARNING INFORMATION
Maths Passports
Maths Passports have been set up to increase the children's fluency in mathematics. If children can recall key facts ( such as multiplication tables and number bonds) instantly, it helps them to tackle more complex calculations.
Maths Passports are a very personalised way of learning as the children are challenged in the passport that is appropriate for the level they are working at. They progress at their own speed onto the next stage. Within each class, children could be working on several different continents.
Children are regularly assessed. Only when they have achieved all of the targets of one continent's passport do they move on to the next.
We would also ask parents to make the most of any 'real life' maths experiences at home, e.g. working out the cost of catalogue items, savings on sale items, expected change to be received in shops, checking till receipts, weighing in cooking, measuring for household jobs.
Below are the maths passports - your class teacher will advise you as to which passport your child should be working on.
The passports are intended to be accessed in the following order :
England, Scotland, Northern Ireland, Wales, Ireland, Europe, Asia, Africa, Antarctica, Australasia, North America, South America, Globetrotters, The Lost Island, Atlantis, Space Station and finally Planets.
Mathematics Progression Map Years 1 - 6
Look below for a guide to how the White Rose Maths Curriculum links to the Key Stage 1 and 2 National Curriculum, and how it progresses through topics.
Calculation policy and guidance (From White Rose Maths)
Parent Partnership - 13.12.19
It was fabulous to have a spotlight on maths during the Parent Partnership meeting. We discussed fluency in maths, why it is important and strategies to develop fluency. The PowerPoint can be found below.
Workshop for Reception Parents
Look below to find the PowerPoint we shared with Reception parents on 21.11.19 explaining how Maths is taught in Reception at St. Leonard's. It outlines the progression we hope children to make in Reception and explains how to support your child in Early Number and learning to count effectively.