September 2020
Welcome to the class page for Doves.
We have had lots of fun in our first week at school. I have added our Parent Plan so you can see what we have planned for your children. This half term we will be learning all about engineers such as Isambard Kingdom Brunel and artists such as L S Lowry. In our English unit we will be exploring Traditional Tales to help us create narratives, letters and poetry.
I will be in touch throughout the year with updates via Twitter so please follow me at:
@polli_mrs
Please do not hesitate to contact me if you have any questions or concerns and I will respond as quickly as I can.
Stay safe.
Mrs Pollard
Our Autumn 1 Creative Topic is 'We Are Engineers'.
Home Learning
Examples of home learning from previous weeks can be found on the Doves Home Learning page.
Our creative curriculum for Spring 2 is...
Shiver and Sizzle.
Homework for Doves during Spring 2 term can be found here.
Skipton Castle Visit
On Friday 28th February, Key Stage 1 embarked on a trip to Skipton Castle. It was a cold, wet day, but the Doves, Eagles and Falcons embraced the opportunity to explore this wonderful place. It was a memorable day and the children were happy to recount their adventure once we returned to school!
Click on the images below to enlarge.
Our creative curriculum topic for Spring 1 is....
Dungeons and Dragons.
Artwork in the style of Paul Klee
Doves enjoyed creating images based on Paul Klee's 'Castle and Sun' artwork...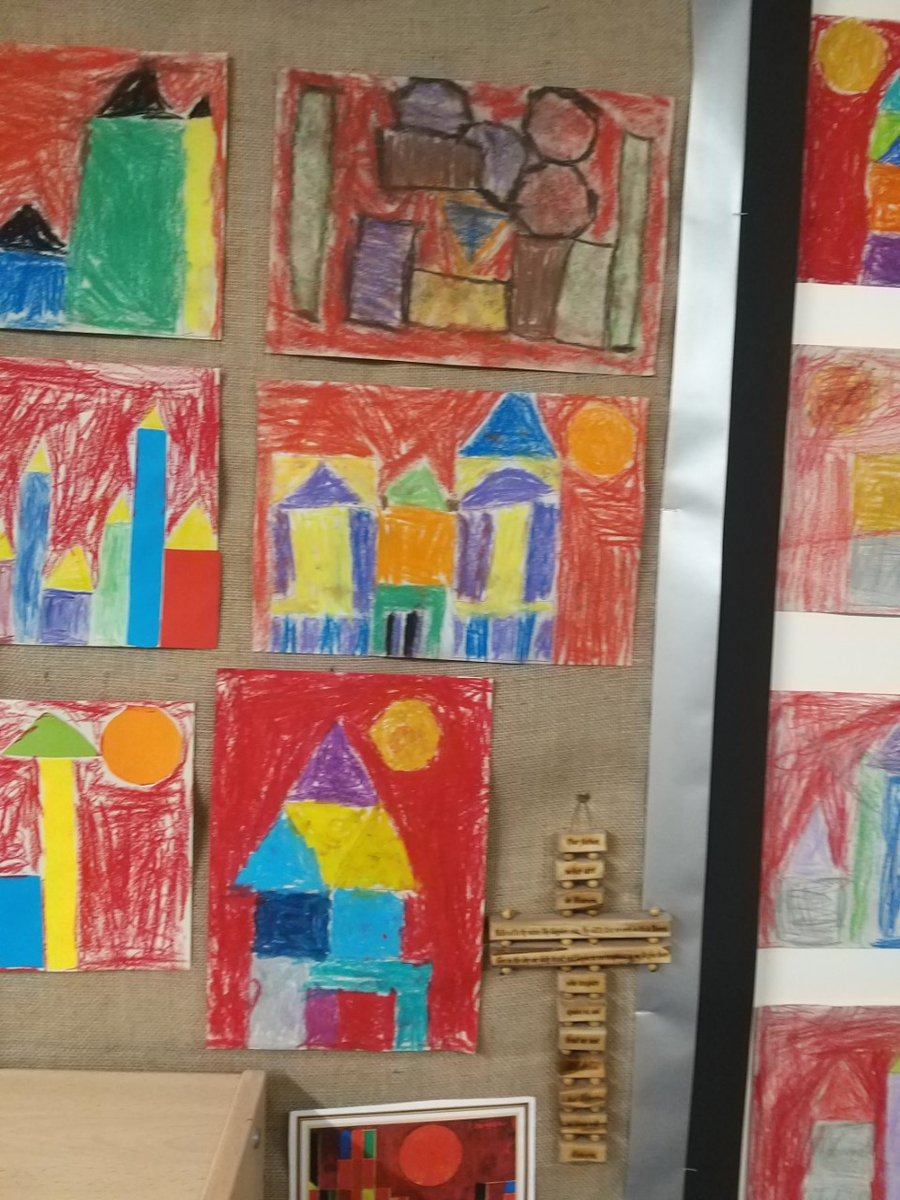 They also learnt how to create digital images on their Chromebooks, in Computing, using the shape and colour fill tools in a Google Drawing document.
Year 1 Pick and Mix homework for Autumn 1.
Meet The Teacher Presentation
Curriculum Overview 2019-2020
It is important to continue to keep active at this time.
Here are a few ideas and websites to help keep the whole family active!
'If you can be anything in this world, be kind.'
Doves have been thinking about kindness and how we can make a difference by using kind words and gestures.
Throughout Lent, Mrs Thornber and myself are looking out for children who carry out random acts of kindness. They will be awarded a Dove on our class kindness tree.
The Doves Parent plan for Spring 1 can be found here.
Pick and Mix homework for Spring 1 can be found here.
Doves Parent Plan Autumn 1.
Computing - Capturing Autumn Images
We took our computing learning outside, using our iPads to capture signs of autumn in our school wood, and what a fun time we had!
We developed photography skills such as zooming in and holding our iPads very still to prevent the image being blurred. We also learned how to review the images we took and to delete ones that we didn't want to keep.
Blessed with beautiful, late autumn sunshine and the wonderful nature within our school grounds, we were able to capture the season in its golden splendour!
Take a look at the slideshow of the fabulous images we took.
We think you'll agree that we have some budding, young photographers in Doves Class!